Bullishness.com Blog
10 Things Zombieland Taught Me About Stock Market Investing
posted on: 2009-11-05 17:21:54 by Soo-Young
tags: stock market commentary, zombieland
---

Introduction
I've watched Zombieland a total of three times and thoroughly enjoyed it each and every time. I've never seen a movie so many times in the theaters and can definitely say it's one of my all time favorites. How is Zombieland related to the stock market? Well if you're not smart, nimble, or well equipped in either Zombieland or the stock market, you'll quickly get wiped out. If you've seen Zombieland, you already know that throughout the movie, Columbus reveals each of his rules to survive in Zombieland. Today, we'll take a look at these rules and discuss how they can help you survive in the stock market. Disclosure: The writer of this article is not affiliated to Sony Pictures or Zombieland. Warning: this article does contain a few small spoilers.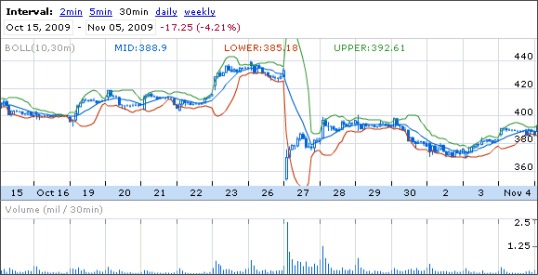 Mental and emotional fitness are required to survive charts like these

The movie opens with an overweight human being chased down a football field by a hungry flesh eating zombie. Soon, the human is overtaken by the Zombie and Columbus's voice tells the audience that the first rule of Zombieland is to have good cardio. Those with better cardio have a better chance of outrunning hordes of zombies.
You may be wondering: How does cardio relate to the stock market? Well, the answer is simple. In the stock market, you have to be mentally and emotionally in shape, or you may succumb to the clutches of hungry asset eating stocks. If you see a stock that is surging upwards and you don't have the emotional fitness to resist your own greed, you may buy at the top only to see it tumble shortly after. Having strong mental and emotional fitness will help you make more clear headed and disciplined decisions, which will help you survive the stock market.

The second rule of Zombie land is the double tap. To quote Columbus: "In those moments where you're not quite sure if the undead are really dead, don't get all stingy with your bullets. I mean, one more clean shot to the head, and this lady could have avoided becoming a human Happy Meal." If you keep buying the same stock and take a loss each time, you're ignoring rule number two. A lot of times, we're drawn back to stocks we've lost money on, hoping we can at least break even, only to get burned again. In this situation, you have to take the stock off of your watch list and out of your thoughts. Give it the double tap and let it die.
A scene from Zombieland 2009

The third rule of Zombie land is to beware of bathrooms. This is important because, as Columbus explains: "Sometimes when you're most vulnerable, they can just smell it". When you're investing in the stock market, you don't ever want to put yourself in a vulnerable situation. A prime example of this is when your portfolio tanks, you sell all of your positions, and you start looking for short cuts. You might look for hot stock tips on forums, subscribe to a dubious newsletter, or worse yet, watch Mad Money. In times like these, it's important to acknowledge your vulnerability and avoid being a victim of easy answers, short cuts, and Jim Cramer.

Seat belts play a crucial role in Zombieland. In one scene, Columbus crashes his car into a storefront, sending a zombie flying through the windshield leaving him safe inside the car. When a car crashes, you need something to protect you from getting thrown out and killed.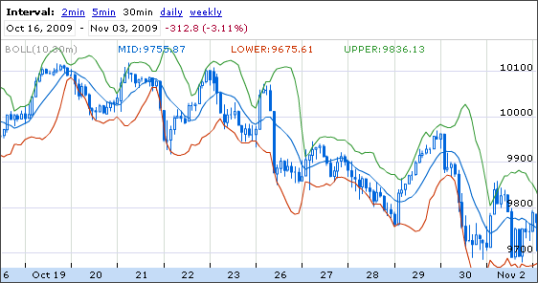 A seat belt stop loss can save you from getting seriously injured
This is very similar to when the stock market crashes. When this happens, you need something to protect you from catastrophic loss, but there aren't any seat belts in the stock market, right? True, but there are stop losses and they can protect you from a crash just as well. So remember, keep stop losses in place to prevent your portfolio from getting seriously injured in a stock market crash.

Before the events that lead up to Zombieland, Columbus lived a mostly solitary life, devoid of any close personal or romantic relationships. In other words, Columbus was light on emotional attachments and baggage. Columbus also carried very little physical items making it easier for him to nimbly navigate through Zombieland and focus on his own survival. If you have thoughts and opinions on how the stock market should behave which differ from how the stock market actually behaves, you won't be able to adapt quickly and protect your assets. In other words, you're too tied down by your own thoughts and opinions to move quickly and nimbly. It's always more important to make money than to be right. If the stock market isn't going the way you think it should, suck in your pride, admit your mistake, and change strategies accordingly. Traveling light will allow you the flexibility to respond to the ups and downs of the stock market instead of stubbornly holding onto losing positions.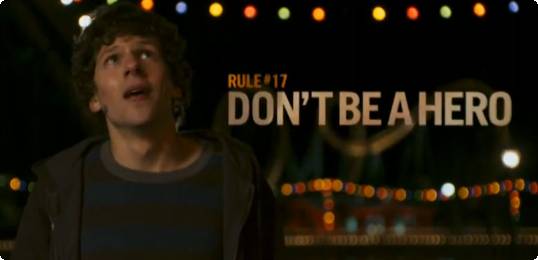 A scene from Zombieland 2009

In Zombieland, Columbus understands the importance of self preservation, and advises against being a hero. In stock market investing, the only person you should care about is yourself. You don't owe any investors or companies a darn thing. If you take a huge short position on a particular stock and feel bad for any investors or institutions that are going long, you have to ignore your natural kindness and press on. This might not sit well with some of you, but it's the truth. Your first objective should be capital preservation and growth, and that sometimes means ignoring your manners and being a little selfish. Remember this when you're investing in the stock market and don't be a hero.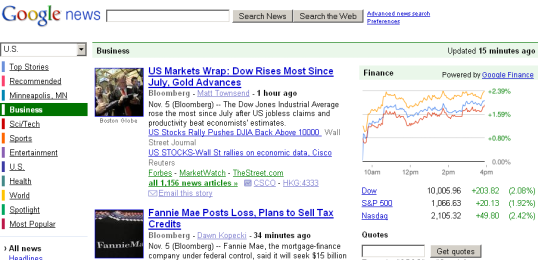 Catch up on your daily business news to limber up

Before engaging a Hostess truck on the side of the freeway, Columbus limbers up his body and prepares himself for what awaits in the truck. Limbering up is an important part of taking on zombies as well as taking on the stock market. Whenever you are thinking about taking a position on a particular stock, it's always important to limber up and know what you're up against. Read the news, check the earnings calendar, and do your homework. You don't want to get blind sided by something you could have avoided, so its important to prepare for what lies ahead and limber up.
Before coming to the aid of Wichita and Little Rock in a zombie infested convenience store, Columbus props open a door with an empty box and tells the audience: "Sometimes zombies are going to have you on the backfoot and when that happens you donít want to be looking around for a way out". Whenever you take a position on a stock, you should always have an exit strategy in place. This can be in the form of a trailing stop loss, or a predetermined profit percentage. In either case, you have a rule set in place before entering a position, making it possible to exit based on reason rather than emotion.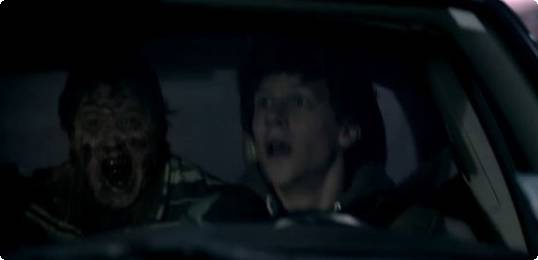 A scene from Zombieland 2009

Whenever Columbus enters a car, he always checks the back seat for zombies. A car can contain unapparent danger, just like a stock, so it's always a good idea to check the back seat. How can you check the back seat of a stock? Take a look at its fundamentals to see if it's sound enough to take a position in. If you check the back seat of every stock you invest in, you reduce the risk of getting mauled from behind.

Zombieland is a place full of fear, danger, and loneliness. These things make Zombieland a difficult place to live in and are never going to change or go away. That's why it's important to enjoy the little things, whether that means destroying a roadside souvenir store, occupying a vacated celebrity mansion, or going to Pacific Playland. As a human in Zombieland, if you don't take the time to enjoy the little things and are focused only on survival, your existence will be no more significant than that of a Zombie.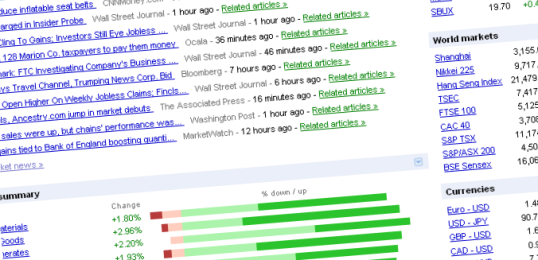 Getting too wrapped up in the stock market can hurt you
This rule can also be applied to stock market investors like you. If you're completely consumed with staying on top of news, making trades, and tracking your portfolio, you become less human, in a way. You'll spend less time with your friends and family, and become a victim of the stock market. That is why it's important to enjoy the little things in life. Play a round of golf with friends, take out your significant other to dinner, or volunteer. Any of these things can help you enjoy the little things in life, and remind you that surviving the stock market isn't the most important thing in life.
Conclusion
Who knew a zombie flick could have so many important lessons that relate to investing. While this article contains no professional advice, hopefully it has helped entertain and educate you. I've sung the praises of Zombieland throughout this entire article, and should reveal that I have no affiliation to Sony Pictures or anyone involved in the making of Zombieland. I'm just a really huge fan and enjoyed every bit of the movie. I also enjoyed every bit of writing this article, and hope you enjoyed reading it. Happy trading!
---
Return To The Bullishness.com Blog »
Help Center
Recent Blog Posts
Blog Roll