Bullishness.com Blog
How To Choose An Online Stock Broker
posted on: 2009-10-26 22:59:00 by Soo-Young
tags: articles, online stock brokers
---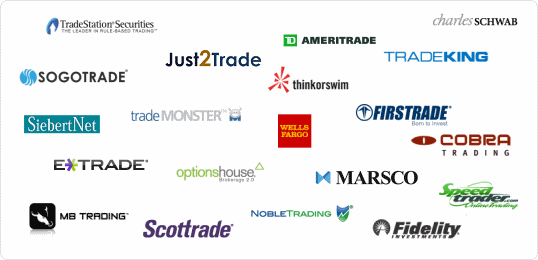 Introduction
If you're interested in investing in the stock market, the first thing you'll need an online stock broker. This article will help you evaluate your investing profile and give you practical tips and advice for your own online stock broker search. Before getting into all of that, let's start with a quick definition of an online stock broker. An online stock broker is a financial service provider that allows you to buy and sell stock from an internet enabled device. The main advantages of using an online stock broker over a traditional stock broker are independence and price. Online stock brokers have lower overhead costs than traditional stock brokers and cost much less to use. Continue reading and you'll be well on your way to finding the perfect online stock broker.
What Is Your Experience Level?
One of the most important things to consider before opening an account with an online stock broker is your experience level. There are some brokers that cater to more experienced investors, and others that cater to beginners. This may seem obvious, but the difference in service and features can have a drastic effect on your success. So how can you judge how well a stock broker will fit your experience level? If you're just starting out, it's always good to read as many reviews for stock brokers as you can. There are many reviews here on Bullishness.com, but you shouldn't limit yourself to just one source. Venture around the web and find out what other users are saying to get a better idea of what to expect with the online stock brokers you are considering.
Another great way to get an idea of what a particular broker is like is to call them. Measuring how long it takes to speak to a human customer service representative is a great way to quantify how good or bad a particular online stock broker's customer service is. Imagine the stock market is surging upwards and you can't get a hold of a customer service representative to add more money to your account. This is a worst case scenario, but when it's your money and investments, it's best to find an online stock broker you can rely on 100%. A lot of times, online stock brokers focus more of their attention on their online presence instead of their offline presence, which can negatively affect their user experience. In short, it's never a bad idea to call.
To sum this section up, reading reviews from multiple sources, and calling prospective brokers are two great ways to see if your experience level matches prospective brokers.
Resources, Tools, Tutorials
Some brokers offer educational resources and tools specifically designed for beginning investors. These resources and tools can help you learn more about the stock market and invest smarter. These resources and tools can include tutorials, stock screeners, streaming data, mobile access, charting software, trading software, strategy back testing, and private message boards. If you're a beginner and sign up for a broker that caters to more advanced investors, you'll be paying extra money for features that won't help you. In short, it's important to learn what tools and resources each online stock broker offers and how they fit with your experience level before opening an account.
Commissions, Account Minimums, Fees
It's also important to consider the commissions, fees, and account minimums before opening an account with an online stock broker. If you plan to trade stocks frequently, having high commissions can eat away a significant amount of your profits. Imagine you're just starting out with a 1000$ account and your broker charges a 20$ commission. To buy some stock and sell it later, you'll end up paying $40 in commissions. Now let's imagine you put all $960 you'll have left after commissions in a particular stock. A quick calculation reveals that your stock would have to increase 4.16% in value just for you to break even. 4.16% might not seem like much, but having to dig yourself out of that 4.16% hole with each stock positions can easily turn your big winners into moderate winners, and your moderate losers into big losers. Financially savvy and successful people usually go the extra mile just to eek out an extra .1% on their investments or savings. Every little bit counts, especially if you have a small account.
The previous topic of commissions is closely tied to account minimums. Many times, online stock brokers have tiered commission pricing that favor larger accounts. In other words, if you have a larger account, you may qualify for cheaper trades at certain brokers. There are even some brokers that offer commission free trades to investors with large enough accounts. The bottom line is that the amount of money you have to start out with can affect the commission price.
It's also important to learn about any extra fees prospective brokers charge. Some online stock brokers may offer low trade commissions but have hidden fees to make up for it. The most common of these fees are inactivity fees, minimum balance fees, and fund transfer fees. Make sure to check the fee schedule for each broker you're considering before opening an account to avoid these pesky fees.
How Active Will You Be?
Your trade frequency is another important metric to consider when choosing an online stock broker. At one end of the trade frequency spectrum, you have investors that make stock transactions every couple years and earn their profits from dividends. At the other end of the spectrum, you have investors that make stock transactions every couple of minutes. Depending on how often you buy and sell stock will make a big difference in what kind of broker will suit you best. The amount of trades you make can also affect your commission price, much like your account size.
Your trade frequency will also help determine what features will be most beneficial. If you make only a handful of stock transactions every decade, features like lighting fast order execution and up to the millisecond pricing data isn't all that important. If, on the other hand, you're day trader, these types of features will be much more beneficial.
Conclusion
There are a lot of things to consider when choosing an online stock broker, but if you take your time and do the necessary research, you'll be able to invest more successfully and for less money. Now that you're finished reading this article, you should know enough about yourself and what kind of online stock broker would be best for you. Now all you have to do is go out there and find one. Best of luck and happy trading.
---
Return To The Bullishness.com Blog »
Help Center
Recent Blog Posts
Blog Roll